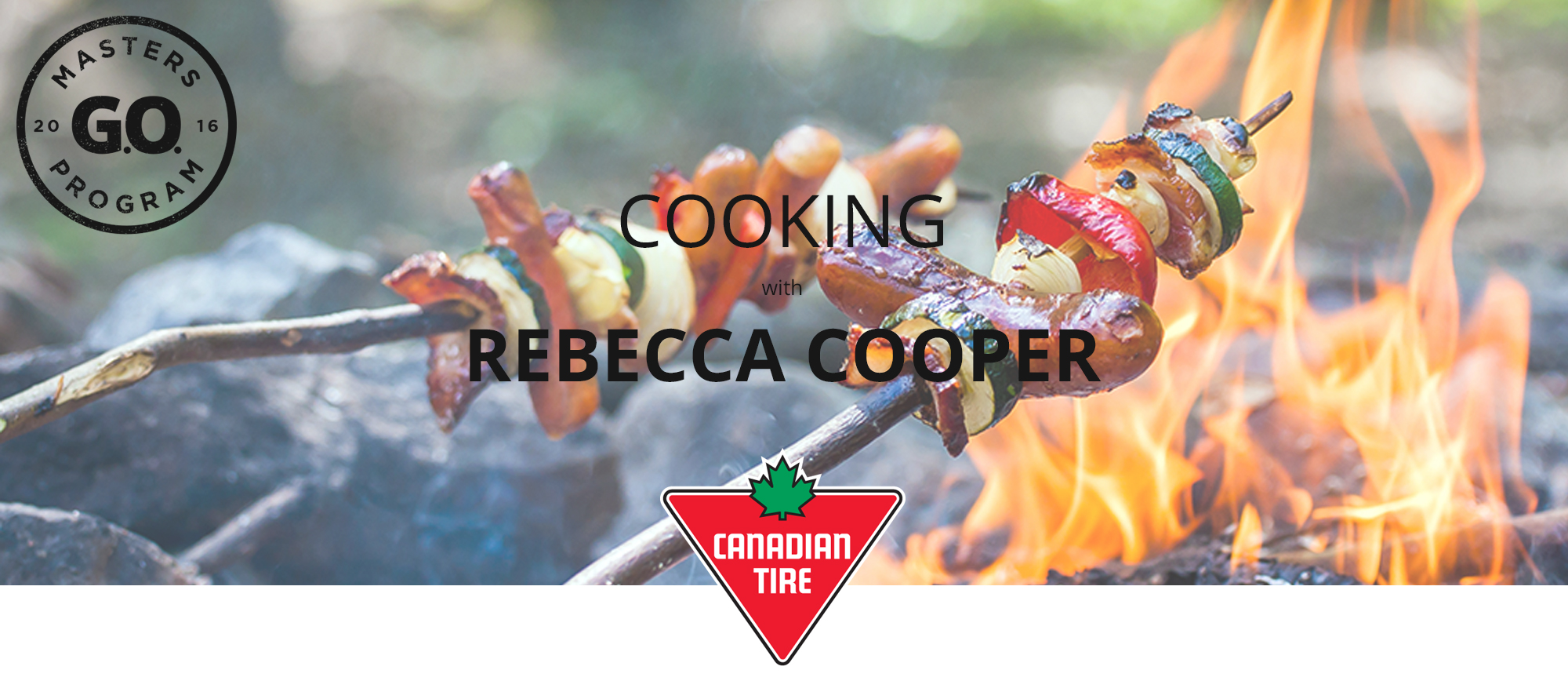 Backyard Camping Adventures
Getting outside doesn't have to mean adventuring far from home. Make special memories as a family without setting foot beyond your own yard!
To kick off Get Outside Day we shared a delicious recipe for Skillet S'mores Dip with you. We enjoyed this yummy treat on a recent backyard campout and today I wanted to share with you just how fun it can be to try "roughing it" in your own backyard!
If you're short on time and your summer fun budget is limited, then backyard camping is the perfect solution if you're looking to spend some quality time outdoors as a family!
There's no packing involved, no long drive in the car and I can tell you, our backyard camping experience was unforgettable! 
Tips for making your backyard campout an adventure to remember
1) Make it authentic. To give your backyard campout an authentic feel, don't forget the sleeping bags, a tent, flashlights or the Coleman Divide and Twist Lantern, which are a a must to get that true camping feel. We brought the Coleman Xtreme Cooler out to keep drinks in so we didn't have to run back and forth between the house and when closed it made a great little table top! The Coleman Kickback Chair is great for gathering around the campfire or for sitting outside enjoying the night sky.
2) Ditch the electronics. Encourage the whole family to unplug and leave their phones, iPods and laptops in the house. Tell ghost stories, sing campfire songs or do some star-gazing distraction-free! Being able to spend quality time together without the pull of electronic devices will make your backyard camping trip all the more special.
3) Get ready. Treat your backyard campout as a trial run for the real thing. Seeing how younger children do with sleeping in a tent in the backyard will help gage their readiness for a 'real' family camping trip. A backyard campout is the perfect way to help children who may be nervous about sleeping in a tent feel at ease. 
4) Keep it simple. Easy set up means easy clean up. You want your campout to feel authentic, but don't feel like you need to pull out all the stops. Keep your supply list and your menu simple. You'll be able to make wonderful memories without any fancy equipment. One thing that made our campout easy to pull off was the Coleman Hampton 9-Person Cabin Tent. Set up and take down was a breeze and we appreciated the fact that there was plenty of room inside for the whole family! Make sure you involve the kids so they learn what's involved with setting up and taking down "camp."
5) Eat out. Make the experience even more fun by opting to cook dinner or enjoy a few "camping" snacks outside. Below is a list of simple food ideas to enjoy during your backyard campout. They can be cooked over a campfire or even easier, using the Coleman HyperFlame FyreSergeant Camp Stove and Grill.
Hotdogs – Everything tastes better when it's cooked over an open flame! Hotdogs are a camping dinner staple and are even more enjoyable when eaten together with loved ones.
S'mores – One tip to help make s'mores easier for little hands to manage is to use graham crackers or cookies that are already covered in chocolate. One less ingredient for your child to try and balance, and yet still delicious! You can also give our Skillet S'mores Dip a try for a different spin on this tradition camping treat.
Roasted Marshmallows – It wouldn't be a true camping trip without some marshmallow roasting, now would it? If you don't have space for a backyard fire use the flame from the Coleman HyperFlame FyreSergeant Camp Stove and Grill to roast your marshmallows to perfection!
Popcorn – Did you know you can cook popcorn over an open flame? All you need is some tinfoil, vegetable oil and popcorn seeds. Take a handful of popcorn seeds, place them in tinfoil with 1 tsp of vegetable oil. Fold foil in half and seal edges. Attach foil packet to a long stick and roast over hot coals or over low heat on Coleman HyperFlame FyreSergeant Camp Stove and Grill. Listen for kernels to start popping. Once they finish popping remove from heat, carefully open foil packet and add salt and butter.
Hot Chocolate – We enjoyed a delicious pot of hot chocolate during our backyard campout and kept it heated throughout the evening on the Coleman HyperFlame FyreSergeant Camp Stove and Grill. It was a nice way to keep warm when the sun went down and the stars came out.
Campfire Pies – Have you tried campfire pies? Some people call them Mountain Pies or Hobo Pies. Whatever the name, they're delicious and easy to make. All you need is bread, butter, your favorite canned pie filling, a brown paper bag and powdered sugar.  Butter one side of a slice of bread, place in sandwich toaster buttered side down. Put a large spoonful of your favorite pie filling on slice of bread. Top with another slice of buttered bread. Close sandwich toaster and cook over hot coals or over low heat if using the Coleman HyperFlame FyreSergeant Camp Stove and Grill for 3-5 minutes until toasted. Remove campfire pie from sandwich toaster and toss in icing sugar in a brown bag then enjoy this tasty treat!
Our backyard adventure was truly memorable for the kids and as a parent I appreciate that we didn't have to spend a penny on travel or booking a campsite to get outdoors and spend time together!
With the convenience of being close to home and getting a taste of nature – backyard camping truly is the best of both worlds. Our kids can't wait to do it again soon!