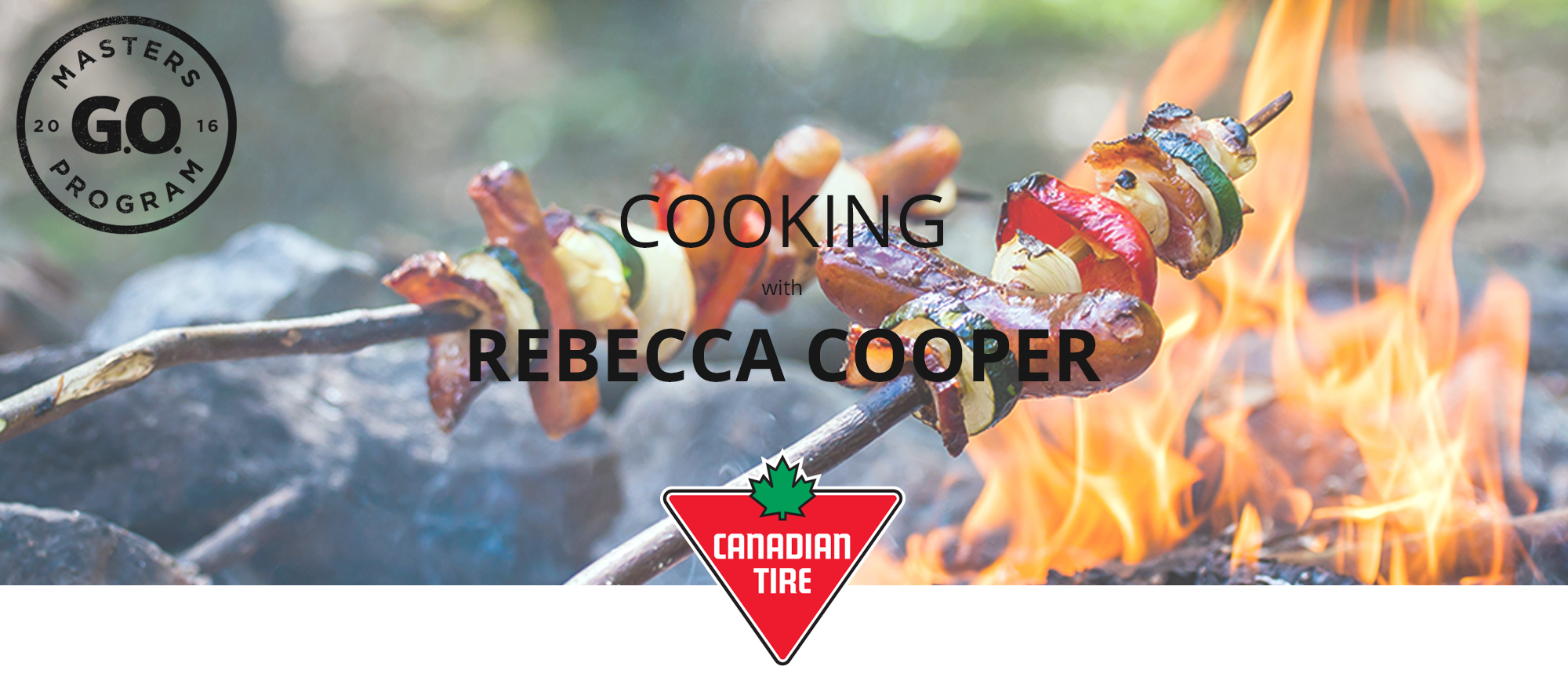 Simple Outdoor Cooking Tips
Cooking outdoors sounds so appealing, but I'll be the first to admit, it can feel intimidating. Without the convenience of your favourite kitchen gadgets it's easy to get overwhelmed by the idea of heading outdoors for your next meal.
I'm here to tell you that just about anything you make inside can be made in an outdoor kitchen. With these tips you'll be on your way to a simple and delicious outdoor meal in no time!
Get the Gear
Contrary to what you may think, you don't need all of the latest and greatest outdoor gear to set up a basic outdoor kitchen. In fact, with outdoor cooking, less really is more! With a short list of essentials you can set up a basic outdoor kitchen that will function wonderfully and efficiently!
Here are some of the basics that our family uses:
A reliable camp stove. The Coleman HyperFlame FyreSergeant Camp Stove and Grill has been a great one for us. It's big enough to accommodate cooking for a large family while still being lightweight. It cooks our food to perfection and it's InstaStart matchless lighting is so handy!
Cookware. A large lightweight pot and one frying pan is really all you need to cook any meal. Don't forget tinfoil - it's the MacGyver of outdoor cooking!
Dishes. You'll need a sharp knife or two and a cutting board for preparing food, along with plates, cups and utensils. We always like to bring along a flipper, a pair of tongs and other kitchen basics.
A light source. When you're outdoors you may end up cooking after dark so be sure to bring a good light source. Something that is strong enough to light your entire cooking space – the  Coleman Divide and Twist Lantern is great for that.
A quality cooler and water jug. Investing in a quality cooler is key when it comes to outdoor cooking. It's essential that your food stays cold until it's ready to prepare. The Coleman Xtreme Cooler is great, it can keep ice frozen for up to 5 days! It's also important to have a safe place to store your water. We like the Coleman Antimicrobial Lined Jug for cold beverages.
Miscellaneous. A few other miscellaneous supplies that are good to have on hand when cooking outdoors are paper towels, resealable baggies to store leftovers, garbage bags, extra fuel or matches, sanitizing wipes and a large plastic container for washing dishes and dish soap.
Prep Ahead
Now that you've packed your gear, it's time to plan your menu and prep the food. The more you do ahead of time, the more enjoyable your outdoor cooking experience will be. Some important things to do ahead of time are:
1. Plan your menu and stick to it. A little bit of planning goes a long way to help your outdoor experience go smoothly. Plan healthy meals, decide when you'll prepare fresh meals and when you'll eat leftovers.
2. Prepare your food. Now that you've decided on your menu, prepare your food ahead by cutting and chopping any fruits and vegetables at home. This will save time and space in your cooler.
3. Pre-measure. Measure ingredients ahead of time. For example, if you're making pancakes, pre-measure for a batch and store in a plastic bag. No need to bring the entire bag of pancake mix.
4. Pre-cook. Pre-cooking some meals can make it really easy to feed a crowd while spending time in the great outdoors. Chili, soups and other dishes can be made from start to finish at home, then frozen and stored in the cooler to be reheated when the time comes to eat.
Freeze it
Speaking of freezing, if you're planning on being outdoors for an extended period of time and eating multiple meals while away from home, freezing things is a lifesaver!
Frozen food acts as an ice pack in your cooler. Not only do meals that are frozen ahead save you time, they also help to keep your cooler nice and cold and the other food fresh.
If you're planning meals for multiple days be sure to pack your cooler in layers with the last day's meals going in first, etc. This will keep the food you eat last cooler the longest.
Work some meals into your outdoor menu plan that you can make and freeze ahead and you'll be amazed at the time and effort it can save you when you're on your next adventure!
Keep it simple
When eating outdoors, avoid the urge to make elaborate meals. Keeping things simple is where it's at. Even the most basic meal will taste delicious cooked outside and enjoyed with family and friends.
Clean up
With the prep work you've done ahead of time, you should be able to avoid a lot of time spent on clean up. You may opt to use disposable dishes making clean up a breeze. If you pack reusable dishes and utensils, make sure you also have a way to wash, dry and store them.
Make cleanup time a group effort. Getting everyone involved make the job easier. By following the tips above - planning ahead, packing the right gear and keeping it simple  - you'll be able to enjoy a delicious meal with minimal clean up time. 
It is about enjoying the great outdoors after all. Plan well, and you can spend more time with loved ones and less time cleaning up.