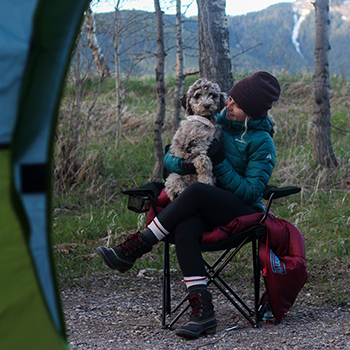 Brooke Willson is a 26 year-old adventure seeker based out of Red Deer, Alberta who spends the majority of her free time in the mountains. With a Social Work Degree, she's worked in schools for the past eight years as an Education Assistant and Social Worker, and has a strong passion for youth empowerment and learning. Outside of work she has figured out ways to balance her life with friends, family, adventure and travel. She believes strongly in eco-therapy and the power of Mother Nature on ones well-being.
Brooke's use of the hashtag #freshairandfreedom says it all. Nature is a place she goes to find her center again. Whether she's out running, hiking, biking, camping, kayaking or simply enjoying a coffee on her back cabin porch, it's where she feels most 'herself'. Brooke plans to continue teaching while inspiring people to get outside, with her new 'fur baby' Timber along-side her.
Meet camping expert Brooke Willson, our "Get Outside Master" from Red Deer, Alberta
The Benefits of Getting Outside and the Gear to Get You Started
I am very excited to be teaming up with Canadian Tire and Coleman Canada as a 'Get Outside Master' and to share my expertise on camping with you. Over the next couple months I will be sharing the places I love to go, tips and advice on camping, reasons why I get outside and why I enjoy inspiring and empowering others to get outside.
Before we get into the many "ins and outs" of Camping, know that there are SO many benefits to getting outside: 1) Exploring our country, 2) Health & Well-being, 3) #freshairandfreedom, 4) Break from the chaos and 5) The Gear you need to get you started. 
How Social Media Can Inspire us to Get Outside
When one hears the words "social media" people may automatically think "indoors". Today's millennials spend an increasing amount of time on social media and can retreat from actual interaction with other people by assuming a virtual character. With the large number of apps, games, information and photos that are available online, it can reel people in for hours on hours, and many have become addicted to this online world. Unfortunately, regular, social and outdoor activities tend to take a backseat for those who are "addicted" to social media. Luckily, I have experienced the other side of the spectrum and have used social media to get me outside.