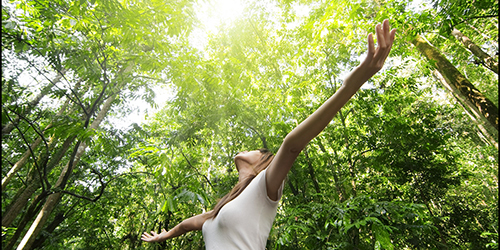 Rejuvenate locally
Research suggests that spending more time outdoors can have a positive effect on the body, mind and spirit. In Canada we are fortunate to be surrounded by an abundance of green space, right in our backyards. Grab your shoes, a buddy and a sense of adventure and explore your community, local park or neighbourhood and absorb all the benefits that Mother Nature has to offer.
Be a trail blazer!
Looking for a way to reconnect with nature, enjoy time with your loved ones, get some exercise or simply clear your mind? Find the perfect trail to get out and have fun! Click here for ideas, so you can spend more time on the trails and less time searching for that perfect place to explore.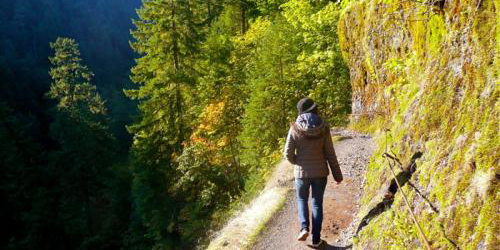 Bike to better your health
If you've ever pedaled up a hill before, you have probably felt the burn indicating that cycling is a great workout for your lower body. Cycling has many health benefits that extend beyond your quads and hamstrings – there are actually many physical and mental benefits to cycling. Not only does it engage your legs, it's also easy on the joints and ignites your inner kid! Steer your wheels towards one of the many trails the Ontario Parks has to offer and pedal hard!
Hiking for head-to-toe health
It's probably no surprise that hiking is good for your health, but it might surprise you that the benefits reach from head to toe! Ontario Parks has 1,800 km of trails varying from easy family-friendly trails to challenging trails for the adventurous soul. Check this out for what's available across the province at various Ontario Parks!
Last year, we asked our outdoor-loving community for their favourite ways to get outside! Check out the ideas below and maybe add one or more to your summer to-do list!
1) Roasting Marshmallows
Nothing says summer like enjoying an ooey-gooey marshmallow. Start up the fire, grab a stick and a marshmallow and enjoy a beautiful summer night.
2) Local Festivals
Scan your local city or town's park and recreation department to find a summer schedule of festivals and activities to take enjoy with the whole family. Maybe it's rib fest, a lantern festival or even an outdoor movie – you never know what might be going on in your own city!
3) Lightening Show
Is Mother Nature threatening to ruin your evening plans with rain showers? Don't let her! Anytime she decides to put on a show… sit back, relax and enjoy nature's fireworks!
4) Sparklers
Have some fun with your family and friends and create your very own light show. Spark your inner child and do the dance of the fireflies.
5) Picnics in the Park
Try dining alfresco this summer! Escape the ordinary – grab a blanket and your picnic basket, and enjoy a meal in Mother Nature's dining room!
6) Fireworks
Who doesn't love a great firework display? Definitely make sure you check one out this summer, and witness how the professionals light up the night sky.