Last year we asked Coleman fans to share their favourite camping desserts. We've picked six of the most over-the-top recipes for you to try this summer!
FOIL PACK SAUSAGE BREAKFAST
INGREDIENTS
Salt and Pepper

4 slices of your favourite cheese

4 eggs

1lb ground pork sausage

4 cups frozen, diced hash brown potatoes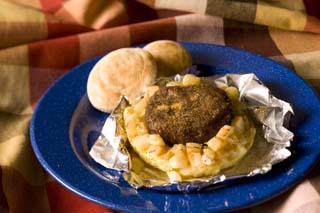 INSTRUCTIONS
Divide sausage into four equal portions. Flatten each portion into a disk, about 3/4″ thick.

In a medium bowl, scramble the eggs well with a fork or whisk.

Cut heavy duty aluminum foil into 4 pieces, each about 15" in length. Spray the foil pieces with non-stick cooking spray, and crimp the edges of each sheet to prevent spills.

Divide hash brown potatoes equally in the center of each piece of foil. Pour equal portions of the whisked eggs on top of the potatoes in each pack. Set a sausage patty on top and sprinkle with salt and pepper to taste.

Wrap foil around the food, forming a tent.

Place the foil packs on medium-hot coals and cook for 15-25 minutes, or until sausage and eggs are fully cooked. Move pack every five minutes, and turn over for the final 5 minutes.

After cooking, open foil pack and place 1 slice of cheese on top of the potatoes in each pack. Let the cheese melt slightly before serving.
INGREDIENTS
1 slice sandwich bread

1 tsp. butter

1 egg

Salt and Pepper

1 tube 8 refrigerated biscuits

4 tsp. butter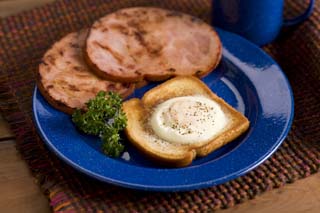 INSTRUCTIONS
Heat skillet over medium heat on camp stove. Cut a 2" hole in the center of the bread. Discard center.

Melt butter in skillet. Place bread in pan and let toast on one side. Flip bread.

Break egg in hole in the bread. Season egg with salt and pepper as desired. Cook egg until done – about 3 -4 min.
MUFFINS IN AN ORANGE SHELL
INGREDIENTS
6 oranges

1 7oz package of your favourite muffin mix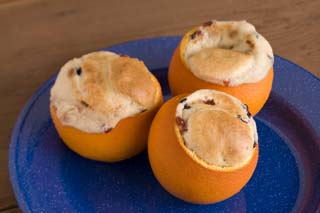 INSTRUCTIONS
Roll each orange on a hard surface to soften the membranes inside. Cut off the top quarter of each orange. Use a sharp knife to separate the pulp from the white membrane of each peal. With a spoon, carefully remove all the orange pulp you can without tearing the peal.

Set aside the fruit for a snack later!

Prepare the muffin mix according to package instructions. Spoon some muffin batter into each hollowed orange shell, filling each about two thirds full.

Cut a 10" piece of heavy duty foil for each orange shell. Set 1 orange on each piece of foil, and wrap the foil around the fruit. Leave the top open, and try to create a flat base.

Place foil wrapped orange shells on hot coals and cook for 10 to 20 minutes. Rotate them as needed, but be sure to always keep the orange upright.

Remove from coals when a toothpick inserted in the muffin comes out clean.

Careful! – These will be very hot after cooking. Enjoy when cooled with a fork or spoon.
INGREDIENTS
Ketchup (optional)

4 slices of American cheese

4 eggs

1 cup ham

4 tbsp. green bell peppers

4 flour tortillas

2 tsp. butter (optional)

4 tbsp. minced onions

Salt and Pepper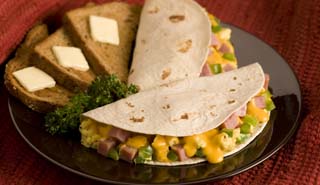 INSTRUCTIONS
In a medium bowl, use a fork to scramble eggs with 2 tablespoons water. Add the diced ham, green pepper and onion; mix well. Season with salt and pepper.

Cut heavy-duty foil into 2 (12˝) lengths. Spray both foil pieces with nonstick vegetable spray. Crimp foil edges enough to prevent spills. Pour half of the egg mixture on the center of each foil piece. If desired, place small pieces of butter on top. Wrap foil around egg mixture in a tent pack.

Wrap the egg packs in a second layer of foil. Place these foil packs on medium coals for 10 to 15 minutes or until eggs are cooked. Open packs, stir once, and continue to cook if needed.

Wrap tortillas flat in a separate piece of foil. Warm foil-wrapped tortillas on a grill or next to the fire until soft and pliable.

Open all the foil packs and place 1 slice of American cheese on each warm tortilla. Spoon equal portions of the cooked egg mixture on each warmed tortilla and fold in half or wrap burrito-style to eat. Serve with ketchup, if desired.
INGREDIENTS
0.5lbs ground beef

1 can (6oz) tomato paste

0.25 tsp. pepper

1 onion

1 tsp dried oregano

0.5 tsp dried basil

0.125 tsp garlic powder

1 can (14oz) chicken broth

16oz package spaghetti pasta

1 can (4oz) mushrooms (optional)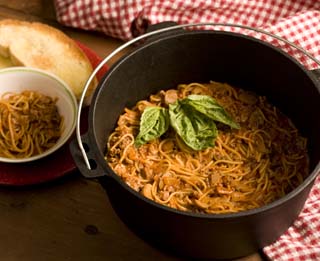 INSTRUCTIONS
Prepare seasoning packet at home by combining pepper, dried basil, dried oregano and garlic powder in a small plastic storage bag. Label bag for "Campsketti".

Build a campfire using briquettes and dig a hole in the coals for the Dutch oven.

Place ground beef and chopped onions in Dutch oven and set Dutch oven in hole. Cook ground beef and onions for about 5 minutes, until evenly browned.

Drain pot of grease and add drained mushrooms, chicken broth, tomato paste, water, pepper, basil, oregano and garlic powder. Bring mixture to a boil and add broken spaghetti. Cook, stirring frequently, until spaghetti is tender, about 20 minutes.
CURRIED CHICKEN SALAD SANDWICHES
INGREDIENTS
6 tbsp mayonnaise

1.5 cup diced or shredded cooked chicken (can use canned chicken)

4 large lettuce leaves

8 slices whole wheat bread

0.5 cup slivered almonds or roasted unsalted pistachios

0.5 cup raisins

2 tbsp curry powder

0.5 tsp salt

1 tsp digon mustard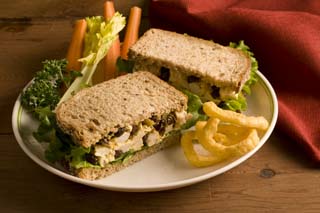 INSTRUCTIONS
Mix the chicken, mayonnaise, mustard, salt, curry powder, raisins, and nuts in a medium bowl until well combined.

Make 4 sandwiches, dividing the chicken mixture evenly among them and topping each with lettuce. Serve immediately.
INGREDIENTS
1 loaf crusty French bread

1 head broccoli

0.5 cup beer or white wine

1 bag baby carrots

2 tbsp flour

2 cup shredded swiss cheese

0.25 tsp paprika

1 can (10.75oz) of cream of mushroom or broccoli soup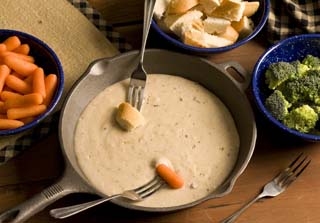 INSTRUCTIONS
Prepare dry mixture at home by combining shredded Swiss cheese, flour and paprika. Pack in a plastic storage bag and label for "Fireside Fondue".

Preheat camping stove. Place shredded Swiss cheese, flour, paprika, cream of mushroom soup and beer in a cast iron skillet and place skillet over medium/low heat.

Cook fondue, stirring frequently, until cheese is melted and mixture is heated throughout.

Serve fondue with baby carrots, broccoli and bread. Dip vegetables and bread in fondue with skewers.
INGREDIENTS
20 slices pepperoni

1 cup shredded mozzarella cheese

Parmesan cheese

1 cup pizza sauce

4 boneless, skinless chicken breasts (halves)

0.5 cup green peppers

1 small onion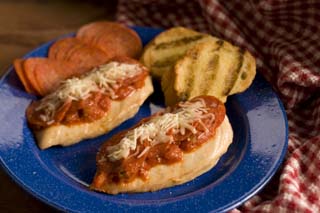 INSTRUCTIONS
Cut 4 pieces of heavy-duty foil, each large enough to wrap around one chicken breast half with vegetables. Spray the foil with nonstick vegetable spray.

Set 1 chicken breast half on each piece of foil. Spread 1/4 cup pizza sauce over each piece of chicken. Sprinkle 1/4 cup mozzarella cheese on top, followed by pepperoni slices, green pepper and onion, as desired. Press down on toppings slightly to hold them in place. Wrap foil in a tent pack around each serving.

Double wrap packets. Place double-wrapped foil packs on medium embers and cook for 15 to 25 minutes or until chicken is fully cooked. Move packs as needed to obtain even heating.

Before serving, open packs and sprinkle Parmesan cheese on top.
INGREDIENTS
1 package (8oz) whole mushrooms

1 onion

8 oz French or Italian dressing

3 tomatoes

Salt and Pepper
INSTRUCTIONS
Place tomato wedges, mushrooms and onion wedges on a large piece of aluminum foil. Pour salad dressing over vegetables and season with salt and pepper to taste. Wrap aluminum up and over vegetables to seal the packet. Wrap packet again in aluminum foil.

Place wrapped packet directly in the coals of the campfire and cook for 20 to 25 minutes. Using long tongs, remove packet from fire. Using a hot pad or oven mitt, slowly unwrap packet.
INGREDIENTS
0.5 tsp dried rosemary

0.75 tsp salt

2lb new potatoes

0.5 medium onion or sweet Spanish onion

6 tbsp olive oil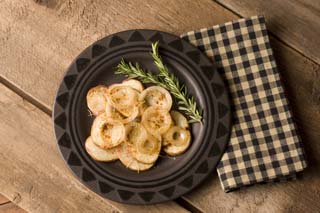 INSTRUCTIONS
Cut 8 (10˝) pieces of heavy-duty foil. Brush each piece with olive oil.

Wash and slice the potatoes about 1/4˝ thick. Place an equal portion of sliced potatoes on each piece of foil. Slice the onion into rings about 1/4˝ thick. Separate the rings and place an equal portion on top of the potatoes in each pack. Sprinkle vegetables with rosemary, salt, pepper and cayenne pepper. Crimp foil edges enough to hold in liquids. Drizzle vegetables with remaining olive oil. Wrap foil in a tent pack around each serving.

Double-wrap foil packs and place on medium embers and cook for 15 to 20 minutes or until potatoes are tender. Turn packs over several times during cooking.
INGREDIENTS
0.5 cup pecans

0.5 tsp salt

0.25 tsp black pepper

8 cloves garlic

8oz fresh mozzarella

1 loaf flat style bread

1 tsp oregano

4 tbsp olive oil

0.5 cup Greek olives

1 stick butter

4 roma tomatoes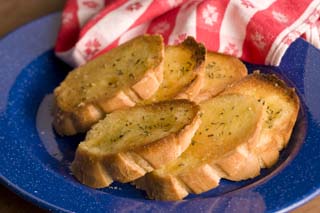 INSTRUCTIONS
Cut the bread length wise to split in half.

In a sauce pan, melt together the butter mixture ingredients on the burner side of the Coleman RoadTrip™ Grill.

Pre-heat the grill to medium-high. Place the sliced Roma tomatoes right on the grill for approximately 1 minute each side and remove from the grill.

Place the bread cut side down on the grill and heat until golden brown.

Remove the toasted bread and spoon the melted butter mix evenly over the 2 halves.

Place the tomatoes evenly over the 2 halves, along with the olives, mozzarella and pecans.

Place on the grill and cover. Heat for 5 minutes or until the cheese starts to melt.

Remove from the grill, slice and enjoy the "All Pro" Garlic Bread.
INGREDIENTS
16 fresh basil leaves

16 bocconcini or any firm cheese

32 crackers, preferable whole wheat

0.25 cup purchased sun dried tomato pesto or olive tapenade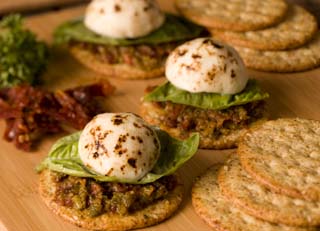 INSTRUCTIONS
For each s'more, set out two crackers and spread one with about 1 teaspoon of pesto or olive spread. Top with a basil leaf.

Spear a cheese ball or cube on a long stick or skewer. If using fresh mozzarella, squeeze the cheese with a paper towel to remove excess water. Hold the skewered cheese over an open fire or very hot coals. Cook for about 2 minutes, turning the skewer to melt and brown the cheese evenly on all sides.

Using the dry cracker or a knife, scrape the cheese onto the cracker with the spread and basil leaf. Top with the second cracker to make a sandwich. Eat immediately.
INGREDIENTS
0.5 tsp salt

0.5 lime

2 tbsp spicy store-bought tomato salsa or homemade salsa

2 avocados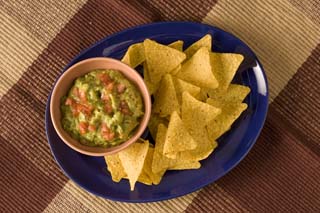 INSTRUCTIONS
Peel, pit, and chop avocados. Smash the avocados with a fork, in a medium bowl, until only a few lumps remain.

Mix in the salt, lime juice, and salsa.

Taste for seasoning, and serve immediately.
INGREDIENTS
6 tbsp mini marshmallows

4 tbsp mini chocolate chip

4 bananas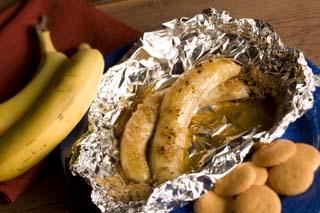 INSTRUCTIONS
Preheat grill to medium. Cut four sections of foil each large enough to wrap a single banana.

Place banana on foil. Cut small trough lengthwise in banana removing about ¼ of the fruit. Set removed fruit to the side to use as trough cover. Fill trough with 1 tbsp. mini chocolate chips and top with 1-2 tbsp. mini marshmallows. Replace fruit to cover trough. Wrap banana in foil. Repeat steps with remaining bananas.

Place foil packets on grill grate and cook for 10-15 min or until chocolate and marshmallows are melted and banana is warm. Serve immediately.
INGREDIENTS
8 (4-5″) celery sticks

0.5 cup raisins

8 tbsp peanut butter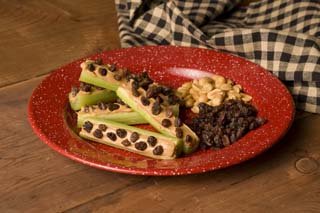 INSTRUCTIONS
Spread 1 tbsp. of peanut butter on each celery stick. Allow children to decorate by sticking raisins in the peanut butter.
INGREDIENTS
2 tsp brown sugar

5 raisins (optional)

1 apple

0.5 tsp ground cinnamon

1 tsp butter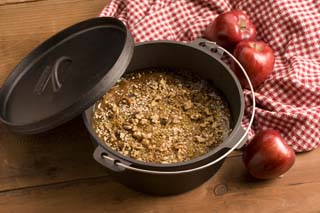 INSTRUCTIONS
Cut 1 piece of heavy-duty foil large enough to wrap around the apple. Cut the core out of the apple and remove it. Cut 1˝ off the bottom of the core to use as a plug. Discard the top portion of core. Insert the plug back in the bottom of the apple and set it on the foil.

In a small bowl, mix the brown sugar and cinnamon. Fill the core space in the apple with 2 alternating layers of butter and the brown sugar mixture. Add raisins, if desired. Wrap the stuffed apple snugly in foil, sealing it well.

Wrap apple in a second layer of foil. Place foil-wrapped apple on medium-hot embers for 20 to 30 minutes or until apple is soft. Let apple cool a few minutes before opening foil.